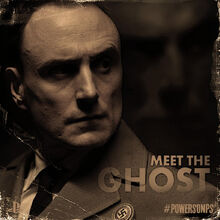 Morrison, aka The Ghost, is an apparently ageless Level-10 Power and master manipulator who is endowed with super strength and the ability to disappear. He is the longtime nemesis of SuperShock.
Powers and Abilities
Edit
Homo Superior Physiology
Enhanced Strength
Supernatural Strength
Strength Combat
Semi-Immortality
Teleportation
Teleportation Combat
Ad blocker interference detected!
Wikia is a free-to-use site that makes money from advertising. We have a modified experience for viewers using ad blockers

Wikia is not accessible if you've made further modifications. Remove the custom ad blocker rule(s) and the page will load as expected.