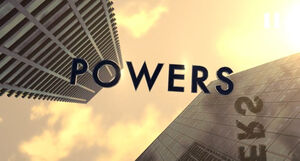 The second season of Powers premiered on May 31, 2016 on the PlayStation Network.
Powers, an edgy dramatic series based on the graphic novel series of the same name, follows the lives of two homicide detectives, Christian Walker (Sharlto Copley) and Deena Pilgrim (Susan Heyward), who are assigned to investigate cases involving people with extraordinary abilities, referred to as "Powers." Set amidst today's paparazzi culture, Powers asks the questions, what if the world was full of superheroes who aren't actually heroic at all? What if all that power was just one more excuse for mischief, mayhem, murder, and endorsement deals? The new season will delve into the storyline made famous by the first comic "Who Killed Retro Girl?" as the Powers Division investigates the shocking murder of the world famous superhero (played by Michelle Forbes) and the mysteries that her death uncovers.
There are no images currently in this gallery.
There are no videos currently in this gallery.
External links
Edit
Ad blocker interference detected!
Wikia is a free-to-use site that makes money from advertising. We have a modified experience for viewers using ad blockers

Wikia is not accessible if you've made further modifications. Remove the custom ad blocker rule(s) and the page will load as expected.